VAULTING CAMP November 2008

"Vaulting for Malawi" has had the pleasure of two visiting coaches from Germany over the past few weeks, Sandra Sauer who trains vaulting horses and Alina Atzler who is one of Germany's top individual vaulters. In this time we have learnt a great deal more about vaulting and of training the horses and our bodies. Most importantly we have had a lot of fun, so we wanted to share that experience, and show others what Vaulting is all about.
Last weekend we held a camp that was open to all horse yards and pony clubs throughout Malawi. 20 children took part ageing from 3 to 14.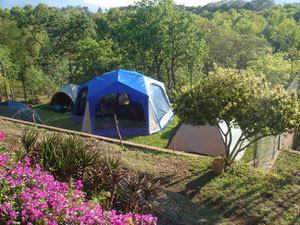 The children were divided into groups enabling them to enjoy games, warm-ups and stretching, along with work on the barrel and of course on the horses. This gave all participants an opportunity to interact with each other and have a flavour of what a vaulting lesson entails.
Warm-ups are a combination of warming and stretching the muscles to prepare the body for some of the difficult exercises in Vaulting. These include games and lots of smiles! We often dance to music and sometimes play games with the horses too. The warms ups usually take up about half an hour of the lesson. The horses have to warm up too!
The barrel is used in order to practice the exercises before vaulting on the horse thereby avoiding any discomfort to the horse and ensuring that we correctly perform all the moves incorporated in freestyle and compulsory moves.
The teamwork and friendship between the children of all ages and backgrounds was not only a tribute to the spirit of Vaulting as a sport, but also to the wonderful children who took part in the camp. We were amazed by you all!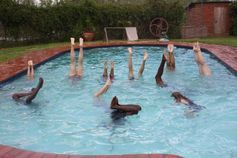 Energy levels were boosted by plenty of good food. However, despite all the activities surrounding vaulting, there was still time for quizzes, a hobby horse race and watching videos of vaulting championships - and all that in between swimming and handstand competitions!
We were able to enjoy a demonstration by the Pegasus Vaulters in a team freestyle and then how it was "really" done in a freestyle by Alina.
We all learned a lot, made new friends, had heaps of fun and slept well that night.
We would like to thank all of those who participated, assisted and supported us, and also all of you who sponsored the farm children. "Vive le vaulting!" as they say in Mauritius.