Anja Traub was in Malawi...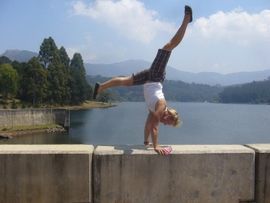 In early September I got a call from Anja Traub of Germany, who was visiting South Africa, wandering if she could visit us in Malawi! Never one to turn down a visitor, I was delighted that I might have an experienced vaulter to help me with our horses and to show the kids some new moves and as always with vaulting – have a great deal of fun!
There were many days of fun and laughter. Anja always had a smile on her face and was always positive and encouraging, particularly when we worried about how Dekador would tolerate certain things!
Vaulters in Malawi would like to Anja. Your smile is always with us, thank you for visiting us and becoming part of the development of Vaulting for Malawi. We hope that you will hold happy memories too.