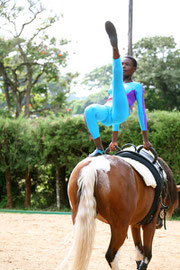 Dear Sponsors and supporters!
This year the Inter Africa Cup will take place in August in Swaziland. We have to complete the Entry Form in the next few weeks in order to ensure our place, so we are looking for commitments for sponsorship now so that we know we have the necessary finance available.
Would your company, school or you personally be prepared to sponsor us this year?  Alternatively, would you be interested and/or prepared to help in fund raising through your company or an organisation or club/society to which you belong? If so do please contact me, Karen McGowan, on +26 999918726 or mcgoos@africa-online.net.  If you would like more information then again please don't hesitate to contact me. We have made a start with our two initial 'Challenge Fun Days' raising the equivalent of US$240.
I am well aware that times are tough at the moment.  However, through the vaulting children other children have also been helped - we can make a difference (see reports on our website).  As well as putting Malawi on the map in the Equestrian world, many of the "Vaulting-for-Malawi" kids have become more confident and focused in their lives generally and at school in particular.  
Your support is so very much appreciated, and certainly without it we will not be able to compete in Swaziland.
Kind regards
Karen McGowan
Vaulting for Malawi
MONEYGRAM to First Merchant Bank of Zomba – for Vaulting for Malawi, Karen McGowan, tel: +265 999918726 or
WESTERN UNION to Stanbic Bank Zomba Branch, again for attention of Karen McGowan, they have to give a code and send that to me by e-mail.